Tevet/Shevat 5778
Call 206-567-9414 for event details or see our online calendar here.
January
6 Talk/Discussion/Dessert Potluck
Coordinating Committee
14 JLC
19 Shabbat
27 JLC
29 Super Supper
February
3 Tu B'Shvat
7 Coordinating Committee
26 Super Supper
COMMUNITY NEWS
Our deep condolences to Caroline Stevens and her family on the loss of her beloved younger sister. Marcia passed away in Michigan at the end of November with her family by her side. May her memory be a blessing to all who knew her.
We are sad to learn of the recent death of Carol Rappaport's beloved father in Arizona.  How lucky they were to have spent time together here last summer, and for him to have her skills and comfort during his illness.  May his memory continue to be a blessing to Carol and her whole family.
TALK, DISCUSSION & DESSERT POTLUCK
Saturday, January 6th at 7 pm: Talk, discussion and dessert potluck at Sheryl and Michael Nathanson's home.  We'll nosh and then Michael will give a talk based on his book with discussion following.Michael will talk about aspects of his book, Between Myth & Mandate – Geopolitics, Pseudohistory & the Hebrew Bible, which raises objections to conventional interpretations of the Bible, especially to the premise of a Promised Land.
For more information call 206-567-9414
JANUARY SHABBAT
January Shabbat celebration :  Friday, January 19, 2018!  Details TBA
FROM CAY
Thank you, Linda….and Shir Hayam friends.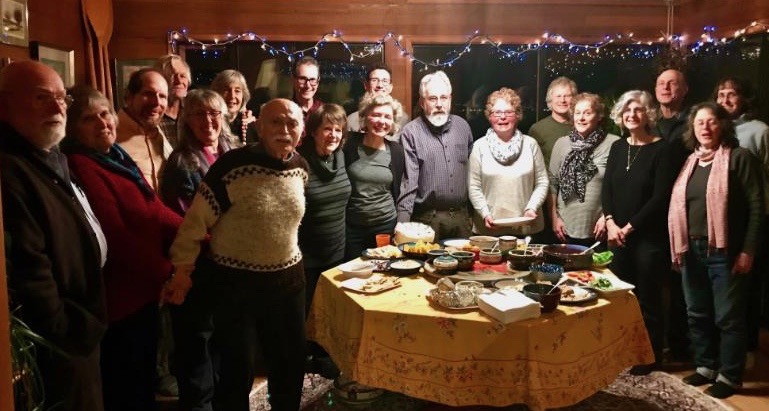 I very much appreciated the evening many of us spent together at Linda's the other night, prompted by my soon-departure for a new job, a new adventure in the Netherlands.  It was a magical evening for me – so many beloved faces and warm hugs.  Some schmoozing, some gnoshing (including Dutch beer and Dutch cheese!), some singing…..and Carol even wrote a song – not sure everyone got to hear its loveliness!  I hope to see any of you that can see your way to the Netherlands in the next 2 years at my new home (home?  well… never, really….).  There will always be room.
A khartfelt dank, aun fil libe….
Go Kugs!
CHANUKAH PARTY PHOTOS
HAPPENING ON BAINBRIDGE
Open House at the Integrated Wellness Center on Thursday, January 18 from 5 to 8 pm at 164 Knechtel Way, BI
Our own Doctor of Chiropractic Julie Rosenblatt and her team of wellness professionals invite you to the IWC Open House for a free event. Come meet the practitioners and ask questions about chiropractic work, therapeutic massage, laser therapy, aqua therapy and natural skin care. Plus enjoy free chair massages, free samples of the organic Eminence skin care line, free group chiropractic sessions for current patients, hors d'oeuvres, local wines and more! Bring your friends too!
COORDINATING COMMITTEE MINUTES
The Coordinating Committee was help Sunday, December 3rd at Cay's house. Jeff, Cay, Nina, Sharon, Dee and Jessica attended.
Cay has departed for Europe. Dee and Sharon have graciously agreed to step up.
CC to develop a process to recruit new CC members going forward. Attempt to create an expectation of service, on a  rotating basis, for each member of Shir Hayam.
With the departure of Cay, Nina will serve as President for this term.
Visioning meeting date set for Feb 18. CC to determine how to solicit ideas for the meeting.
Adult Ed has a budget but no leader. Discuss at next meeting.
Handbook Committee to send final version to each SH member for review and comments.
Ruach to send results of High Holiday survey to the Chavurah.
IFC REPRESENTATIVE NEEDED FOR FEBRUARY, MARCH & APRIL
If you could help for one of more of those months – please contact Sharon Rutzick & let her know.
MEMBERSHIP & Tax Deductible Donations
All memberships & program fund contributions made in 2016 are tax deductible . Please send in your membership form to Chavurah Shir Hayam, PO Box 11492, Bainbridge Island WA 98110. Contact Denise Brown via Shir Hayam contact us,  if you need an application forwarded to you.  Tax deductible donations can be made to the General Fund, School, Education Fund, Tikkun Olam, or other fund of your choice to honor an event, person, or as a remembrance.  Make checks payable to Chavurat Shir Hayam.
Our 2017-2018 membership forms are slowly coming in. Our intent is Membership Commitment by signing the membership form and participation with committees/holydays/projects. We are a small organization & every little bit helps.  Contact Denise Brown at mailings@shirhayam.org if you need a form.