Cheshvan/Kislev 5778
Call 206-567-9414 for event details or see our online calendar here.
November
4 JLC – Golden Age of Spain
18 JLC
27 Super Supper
December
1 Shabbat
16 Chanukah Party
18 JLC
COMMUNITY
Reb Arik's mother, Shoni Labowitz, died two weeks ago.    Arik and his family were there and got to spend sweet time with her just before her death.  Shoni was an artist, author and rabbi, writing books that connected creative practice and Jewish spirituality. Much love and healing for Arik and Aliza, and all the Labowitz family. Baruch Dayan HaEmet– Blessed is what is true in even the hardest parts of life.
DECEMBER SHABBAT
Friday, December 1. Potluck Shabbat
:  
6:30 p.m.
at Bill and Sharon Rutzick's home. A short service and singing with potluck following.  Soup will be provided. For info, contact
Sharon.
HHD SURVEY
The Ruach Committee is asking you to take a couple of important minutes to fill out our short, anonymous survey about the High Holidays just past: What touched you, what moved you. What you liked, what you did not. What you wish there'd been more of—and what you could have wonderfully lived without.
https://www.surveymonkey.com/r/FNVDHGK
We're asking for your thoughtfulness, and thanking you in advance. When Ruach meets to plan High Holidays for 5779, your feedback will be an invaluable tool to shape services that offer spiritual renewal, strength and comfort to us all. If you would like to include your name on your survey, just add it to any of the comment boxes.
IMPORTANT NOTE: When taking the survey, write your comments in the box first, BEFORE clicking on one of the five choices.
Please respond to the SurveyMonkey questionnaire by Wednesday, November 15. Each member in your household 16 years and older is welcome to fill it out.
In gratitude, The Shir Hayam Ruach Committee
HAPPENING ON BAINBRIDGE
BAINBRIDGE ISLAND ROTARY CLUB AND THE HOLOCAUST CENTER FOR HUMANITY PRESENT HOLOCAUST SURVIVOR PETE METZELAAR
Nov. 6 at 6:30 p.m.
 at Wing Point Country Club, 
811 Cherry Ave
. Event is $20 and includes dinner. Register by Nov. 3 by emailing Kate Smith at 
jksmith6225@gmail.com
. Born in Amsterdam in 1942, Pete Metzelaar will share his story of survival during the Holocaust. Sheltered by the Dutch Underground, Pete and his mother lived in hiding for two and a half years. Pete is a member of the Speakers Bureau of the Holocaust Center for Humanity.
PEACE CAFE at EAGLE HARBOR CONGREGATIONAL CHURCH
 Peace Cafe is a place where we can come together to listen and to speak about our deep concerns and deep hopes. If you want to find allies for teens (or anyone) struggling with depression, come to the table. If you're curious or worried about affordable housing, come sit with us. If you want to help build a strong, resilient community that rebuffs bullying, come on in. If shooters make you heartsick, come find others working for gun controls. Whatever is on your m
ind, here's a time and place to share it.
Peace Cafe
Tuesday November 14
6:00-8:00 pm
Eagle Harbor Congregational Church
Coffee, tea, snacks and companions for the journey
HAPPENING IN ISRAEL
From United Religions Initiative – Demonstrating the sisterhood of women in leading the way towards reconciliation and healing of our conflicts. This story & photos of celebration of International Day of Peace on Succot holiday sent by Nina's cousin Rinah.  Learn more about United Religions Initiative here – "Our purpose is to build trust and understanding among Israeli and Palestinian women … through meeting in each others' homes, visiting each others communities and performing service projects together, visiting each other's holy places."
In the background of Muslim, Druze, Christian, and Jewish women losing sons and husbands to religious violence in our region, TRUST WIN CC held their International Day of Peace celebration on the Jewish holiday of Succot when we are commanded to dwell in a small, temporary shelter roofed by palm fronds outside our home for a week.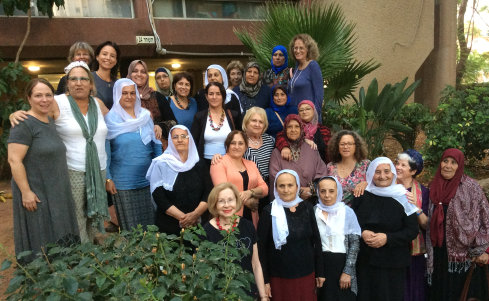 Rabba Judith Edelman-Green and her Jewish friends welcomed and fed 30 women who overflowed from her succah at her home in Kfar Saba in the center of Israel.  Muslim and Druze women from Furedis and Daliat Al Carmel who had never before been in a succah were thrilled by the experience of sitting in a succah, hearing the story of Succot, holding the lulav and etrog — fronds and citrus that are the symbols of our holiday. The Succot holiday has a universal emphasis of peace because over two thousand years ago, Jews made a pilgrimage to our Holy Temple in Jerusalem, not only to offer harvest sacrifices, but also to offer 70 sacrifices – representing the 70 known nations of the world and seeking blessings for them all.  In present times, tens of thousands of Christians from all over the world come and parade through Jerusalem for the Feast of Tabernacles seeking peace and blessing for Jerusalem and the whole world.
Blessings of peace were given in the succah from each religion.  Many new women shared how relieving and satisfying it was to be with women of other faiths and to learn about religious holidays and stories together.  Hediya Hassoun who led the Druze women related how wonderful it was them to experience our holiday and to be a part of it, sitting in a succah and sharing our food, creating deep and personal connections to build on.   Ibtisam Mahamid spoke of the importance of these social interfaith gatherings where women are able to relax in each other's homes, eat each other's food, and learn about each other's cultures and religions.   They then return home to share this new reality with their family, friends, colleagues, students.
Rabba Judith led us in a Walking Meditation through the main streets of Kfar Saba to the home of Lita Pollard to have delicious desserts in her succah.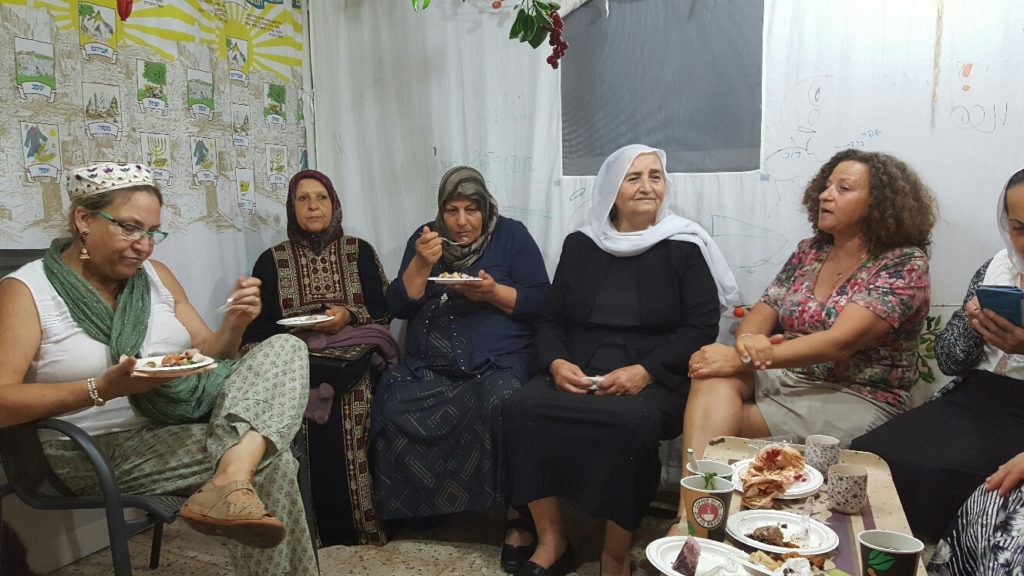 For the regular members, it was a special experience to walk through the center of town instead of out in nature.  For the new women, it was a unique experience to walk arm in arm slowly and silently through the streets. Cars stopped and waited as we crossed busy intersections – calling out greetings to us. People walking on the streets stopped and stared smilingly at us, people in cafes called out "Shalom", and even broke out into applause as they watched us passing by quietly with smiles on our faces and demonstrating the power of our interfaith sisterhood to break down all the stereotypes and to create peaceful coexistence.  Rabba Judith told me the streets of her town felt transformed by our presence.  The women themselves felt transformed by the effect of our demonstration of sisterly solidarity and our warm public reception.  We ended with more blessings and a group hug – and an invitation to hold our next gathering in the home of a Druze woman in Daliat Al Carmel.
We were pleased to connect with all the global energies for peace at this time of the International Day of Peace, and are grateful to Barbara Meislin, the Purple Lady, and other California women who lovingly support our interfaith peace-building efforts.
A LITTLE HUMOR
 The 4 stages of Jewish Exercise.