Tishrei/Cheshvan 5778
Call 206-567-9414 for event details or see our online calendar here.
October
4 Sukkot
14 JLC Torah Shabbes Morning and Brunch
21 JLC
30 Super Supper
November
4 JLC
18 JLC
27 Super Supper
High Holydays 5778
A huge thank you to everyone who worked so hard on this year's services. To all who read, wrote, sang, played instruments, set-up, cleaned up, cooked and photo-copied, to the Kugelettes, to the Ruach committee and to Rabbi Jen Clayman – thank you so much for a wonderful High Holy Days 5778.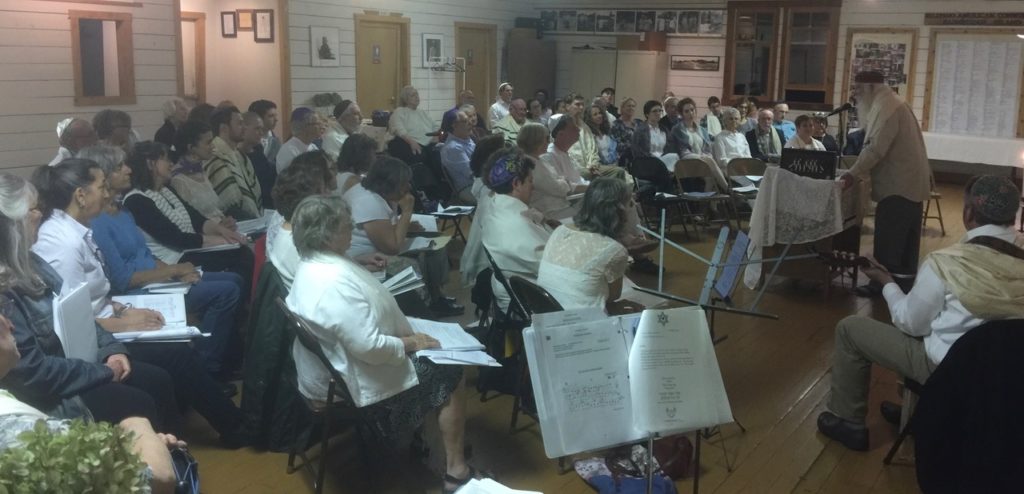 PHOTO BY PAUL TRAVIS
Every year I'm moved by the readings and writings of those who contribute to making these Days of Awe awesome! Every year I think how lovely it would be to have a compilation of these contributions – reflections of the times in society, in one's life…wishful thinking for our small chavurat; another task to undertake. THANK YOU! ~Denise Brown
In response to Denise's request, we now have a page to post High Holiday writings/readings. If you heard something that you would like to see posted or if you read and/or wrote something you would like me to post, please let me know.  High Holy Day Readings are posted here.
SUKKOT
Mid-Week Sukkot Celebration
Wednesday Oct 4, 5:30- 8:00 PM
Potluck Dinner!
Please bring donations for Puerto Rico, and food for local Food Banks.
Rebecca, Ava and Mira Rockefeller's Sukkah– please call 206-567-9414 or email for location.
Sukkot begins just four days after the High Holy Days come to an end. The High Holy Days were for house-cleaning, a prelude to the celebration of harvest, simplicity and joy — Sukkot!
We look forward to seeing you on Wednesday evening as we gather under Rebecca, Ava and Mira Rockefeller's lovely sukkah to enjoy a potluck dinner and co-create an evening of meaningful fun, learning and community.
Traditionally we open our sukkahs and invite in Ushpizin or "guests." Those who have bounty invite Ushpizin who are 'uprooted' and poor to share it. Doing so opens our sukkahs to the other Ushpizin, the spirits of our ancestors, so that we may have a little taste of paradise.
With this in mind, please feel free to invite guests to our celebration and/or bring canned/dry goods and extra bounty from your garden for us to deliver to area food banks. We will also be collecting monetary donations for our Tikkun Olam committee to forward to Puerto Rican relief efforts. Or donate directly to Hurricane Maria Community Relief and Recovery Fund, (look below for details)– https://connect.clickandpledge.com/w/Form/cb4a3c78-5694-4324-bead-42c8ad94c1bf?utm_medium=email&utm_source=actionkit
You may also send checks made out to Chavurat Shir Hayam, with "for Puerto Rico" in the memo to PO Box 11142, BI, WA 98110.
Chag Sameach! Happy Holidays! ~ Lisa, Zann and Rebecca
…………………..
Recommended by 350.Org, The Hurricane Maria Community Relief & Recovery Fund will be housed at the Center for Popular Democracy (CPD).  One hundred percent of monies raised will be used to support immediate relief, recovery, and equitable rebuilding in Puerto Rico for the communities hit hardest by the storm. The Fund is governed by organizations like Puerto Rico-based Taller Salud, the G8 of Caño Martín Peña, and other local, grassroots organizations.  The Fund will support organizations working with these hardest hit communities in Puerto Rico.
CEMETERY DEDICATION
With songs, poems, personal reflections and a blast from the shofar, we dedicated the Shir Hayam section of Seabold Cemetery on Sunday, September 24th. We circled the cemetery 7 times and made it our own.
PHOTOS BY PAUL KERBRAT
CEMETERY BENCH – FUNDRAISING
We are taking up a collection, FOR ONE MONTH ONLY, to raise the money to have a bench installed onsite. If you are interested in donating please send your check to Chavurah Shir Hayam, PO Box 11492, Bainbridge Island WA 98110 with "Cemetery Bench" on the memo line.  If you are interested on being on the bench design review committee (we will only be meeting once or twice), please let Rachel Kerbrat know.
MIDDOT GROUP
Anyone interested in joining a middot group to meet and talk together about our individual progress, please contact Carol Rappaport . I am thinking about meeting one or two Sundays  a month but day and time are flexible.
JLC
Saturday, Oct 14th- 10 am JLC Torah Shabbes Morning and Brunch
We are trying out something new– a JLC learning Torah Shabbes morning, a time for our up coming Bar and Bat Mitzvahs to practice and learn, and for everyone who wants some more Shabbesy blessings in their week.
Upcoming JLC dates: Oct 21, Sat, Nov 4, Sat, Nov 18 Sat
Another missive from the Kvetch….
No books to talk about right now, but I do have a recommendation if you are at all interested in food and how modern chefs think…the show is "The Mind of a  Chef" – it is a PBS series now available on Netflix, narrated by Anthony Bourdain. The series is brilliant, the photography is gorgeous, and the chefs are fascinating…I'm sure the food is delicious – but can't vouch for that! I found it hard to resist a binge or two watching a particular chef….some have many programs devoted to them…the show is a couple of years old but the subject is timeless, I believe. ~ Joanna Church
CROP WALK Report
Thank you to everyone who donated to this year's IFC CROP Hunger Walk. The community to date is just shy of raising $20,000 which turns into $40,000 thanks to a generous anonymous donor who matches the amount raised. Chavurat Shir Hayam brought in $1,224. There's still opportunity to donate  https://www.crophungerwalk.org/bainbridgeiswa/Team/View/45591/Chavurat-Shir-Hayam ~Denise Brown
Lost & Found
If you can claim any of these items please contact Denise Brown.
MEMBERSHIP & Tax Deductible Donations
All memberships & program fund contributions made in 2017 are tax deductible . Please send in your membership form to Chavurah Shir Hayam, PO Box 11492, Bainbridge Island WA 98110. Contact Denise Brown via Shir Hayam contact us,  if you need an application forwarded to you.  Tax deductible donations can be made to the General Fund, School, Education Fund, Tikkun Olam, or other fund of your choice to honor an event, person, or as a remembrance.  Make checks payable to Chavurat Shir Hayam.
Our 2017-2018 membership forms are slowly coming in. Our intent is Membership Commitment by signing the membership form and participation with committees/holydays/projects. We are a small organization & every little bit helps.  Contact Denise Brown at mailings@shirhayam.org if you need a form.