Nissan/Iyar 5777
Call 206-567-9414 for event details or see our online calendar here.
April

15 JLC
24 Super Supper
29 Arik – Havdalah
30 Arik – Learning Session
May

13 JLC – Graduation
21 Annual Meeting
29 Super Supper
ARIK'S VISIT
Beloved guest rabbinic teacher, Arik Labowitz  is returning to Shir Hayam for 2 events, Saturday April  29 and Sunday April 30.

Saturday evening will be a Havdalah and potluck at the Rosenkotz's starting at 6 PM. We know there will be learning and singing and wonderful sharing.

Sunday morning will be a session of learning, depth and fun for the whole community entitled "The Purpose of Freedom and the Freedom of Purpose" and a potluck brunch – 10 am – 12:30 pm Danielle Gordon/Jon Gleasman's home.

Arik  will use stories, songs and discussion to help us move from the freedom of Passover to the purposefulness of receiving Torah at Shavuot— not just "the Torah," but our own torahs, the torahs that are needed right now in our lives and our world.


MARCH TENT CITY VISIT
Our latest Tent City visit was our best so far! Thanks to the increasingly expert planning and shopping of Lisa and Danielle, the meal was beautiful —freshly homemade cookies thanks to the Mortells and Prices, lovely homemade corn bread thanks to Carol Rappaport, Robin Hruska (and me), gallons of homemade chili made by Lisa, Danielle, Sadie and Silas, and a beautiful salad lovingly prepped by Lisa. We also delivered welcomed coffee, juice and nuts from Rachel, a box of oranges from Carol R, and tons of needed supplies from the Mortells. Many thanks also to all who donated money toward the food—Rachel, Araya, Mike and Mark. Many hands do make a big differences for so many who find themselves living in tents. I especially want to thank Jon, Sadie, Silas, Laurance, Cedar, Logan, Dinah, Arthur, Desi, Oliver, Lisa and Danielle for showing up in such friendly, respectful and genuine ways. What a kind and warm community we have!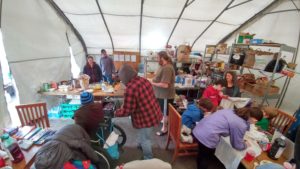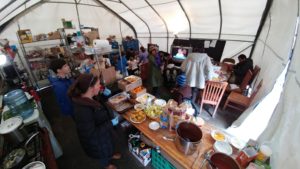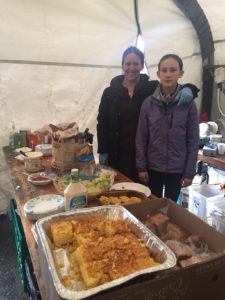 As important as the meal was, the quality of connections were just as important, perhaps more. This was our sixth time coming to Interbay, and our ease, familiarity and connections have really grown. Brilliant Lyle, who has a son who was a Bar Mitzvah a few years ago, and seems to know more about everything than is possible, took the teens, Desi, Oliver, Cedar and Logan, as well as Laurance on a walk to show them other homeless camps and the beautiful public showers at Fisherman's wharf. He's on a mission to get two showers-on-wheels for Interbay Tent City, and has identified the sources who he is applying to for funding.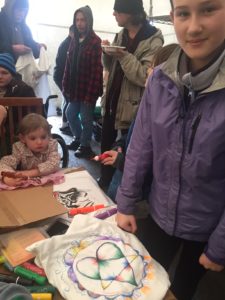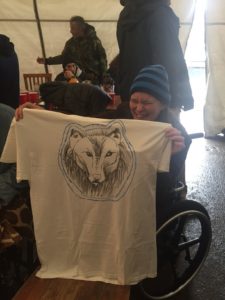 There was an extended family there with three young children, including the baby, Flutterby, who was happy to be whisked away be Dinah. When they first came to this area, they mistakenly set up residence in the Jungle until Child Protective Services threatened to take the children away. The grandfather explained, "Homelessness is not a reason to take children away from their parents. We take very good care of them." The city moved them to Tent City while they wait for some sort of permanent housing. Noah, the 6 year old, attends school.  He and his younger sister, Star, sat in awe beside Silas and Sadie, coloring in the tiger that Silas had drawn for him, and watching in awe as Silas draw a beautiful tiger on tee-shirt for a sweet young couple in wheel chairs. As one of the other campers, Sam, said, "Interbay Tent City is a such a great place, the Rome of all the Tent Cities. Look at us. We have children; we have disabled people. We're a real community, a real family." I loved his definition of a "real community." If only we all thought that way.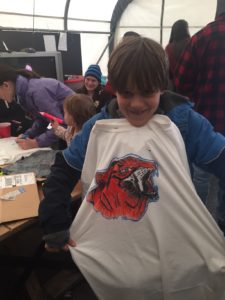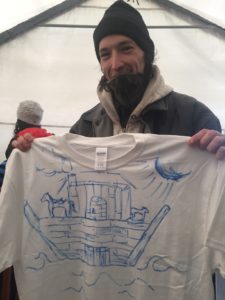 Thank you for all your support for this mitzvah—a mitzvah for our children, for us, and just perhaps, for the campers of Tent City. Please get in touch if you want to know how to support "our" Tent City campers.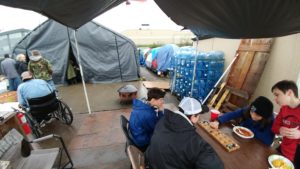 HAPPENING ON BAINBRIDGE
Many of us feel uncertainty in the current climate filled with so much hate and rhetoric directed at minority religions and populations. Adding to our local sense of threat, in March, Temple DeHirsch Sinai was vandalized with anti-Semitic and Holocaust denying graffiti. Our local Jewish community needs to come together and have an open discussion about this rising wave of anti-Semitism and hate crimes.
We will be showing the 30-minute PBS movie Not In Our Town.  Not In Our Town is a movement to stop hate, address bullying, and build safe, inclusive communities for all. The movie depicts the 2008 Billings Montana hate crimes and their amazing community response to this anti-Semitic wave that was sweeping their town.  We will have an open discussion on how we can respond as individuals and as a united Jewish community. We will talk about community needs; build alliances and how we can show up for other communities. We will discuss next steps that we can take as a community.
When: April 30th Where: 4:00 to 6:00 at Congregation Kol Shalom Nosh will be provided.
HAPPENING IN SEATTLE
Washington State Jewish History
Howard Droker, historian and retired attorney, will share photos, census maps and more as we look at local Jewish history from 1850 until World War II. We'll explore three waves of Jewish Settlement during this time frame in Washington state: German speakers, Eastern Europeans and those of Sephardic Heritage. Whether you're familiar with the topic or it's new to you, our local expert will have something for everyone. Thursday, April 610:30 a.m. – noon at Congregation Herzl-Ner Tamid3700 East Mercer Way, Mercer Island For directions, please call (206) 232-8555 or visit the temple's website.RSVP to Rabbi Kate Speizer or call (206) 693-3046 for more information.
---
Ethical Case for Acting on Climate Change
An opportunity to learn why it is a collective responsibility to limit damage we are causing to the environment by fossil fuel consumption. Dr. Aaron Levine will guide our conversation and provide us with the latest research. Levine is a National Research Council Postdoctoral Researcher at the Pacific Environment Lab with NOAA (National Oceanic and Atmospheric Administration). Come with your questions and curiosity as we explore the influence that humans are having on our environment and why it is a moral imperative that we act. Tuesday, April 18 10:30 a.m. – noon at Temple De Hirsch Sinai 1441 16th Ave, Seattle. For directions, please call (206) 323-8486 or visit
the temple's website
. RSVP to
Rabbi Kate Speizer
or call (206) 693-3046 for more information.
---