Shevat/Adar I 5777
Call 206-567-9414 for event details or see our online calendar here.
February

4 Jordan Palmer's Bar Mitzvah
11 Tu B'Shevat Seder
25 JLC
27 Super Supper
March

11 JLC – Purim
26 Tent City Visit
27 Super Supper
DASHIELL MORTELL

In loving memory of Dashiell Mortell, please consider a donation to Chios Refugee Crisis Fund (Please click here).
TU B'SHEVAT
Come celebrate Tu B'Shevat, the New Year of the Trees. The Tu B'Shevat seder, full of imagery and symbolism, is divided into four sections that represent the four seasons.  This seder also is divided into four mystical "spheres," each of which represents a different relationship between humans and the earth: Assiya (Actualization),Yetzira (Formation), Beriah (Creation) and Atzilut (Nobility).
The event will be held
Feb 11 from 4-6 pm
 at Seabold Hall on Komedal Road on Bainbridge. Below is a sign-up for bring the various fruits, wine, juices, flowers and candles which are needed to create the Seder.
HAVDALAH POTLUCK
It was a delight to welcome Imam Jamal Rahman to Bainbridge Island, to be inspired by his stories, humor and wisdom teachings, and to learn a bit more about  the cultural, historic and spiritual depths of Islam.   In this frankly terrifying time politically, and with the flames of Islamophobia being fanned determinedly, and with the personal grief that we all are holding for the Mortells, Jamal's open heart and kindness were a gift.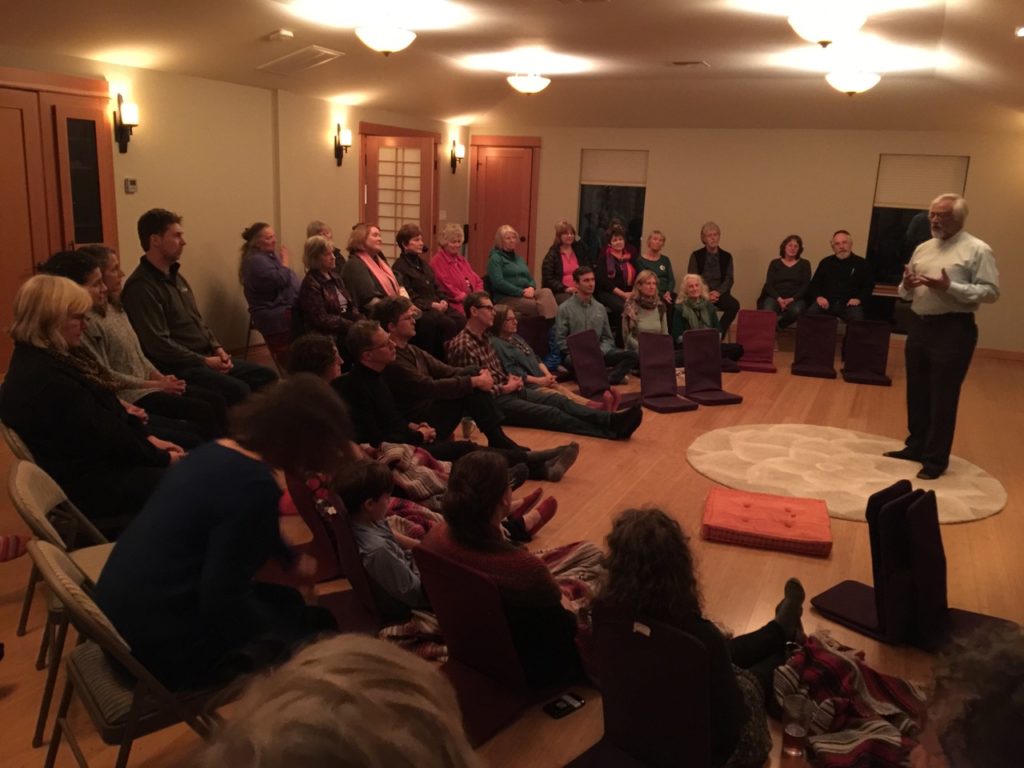 Also gathering together with warm soup, warm singing and  warm conversations created a strong touch stone and ending to a long inspiring day as part of the world-wide response of the Women's March.  In addition to Chavurah members, we welcomed 15 or so members of the community at large, most from different faith communities, who were very appreciative.  Many thanks to Sue and David for hosting us at beautiful Dayaalu.
TRIP TO TENT CITY
Sadie  organized a mitzvah project of organizing a Tent City dinner and art project.  Mazel Tov Sadie and and Danielle for putting this together!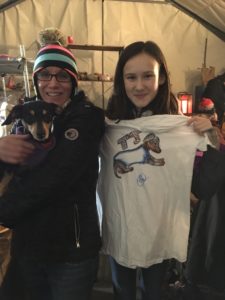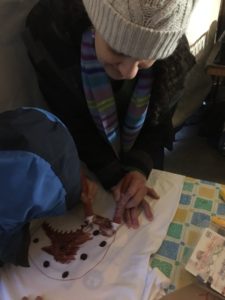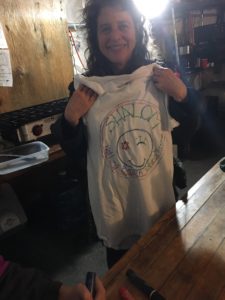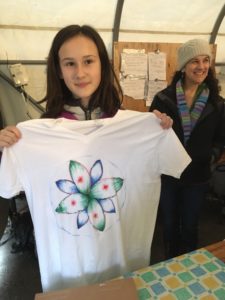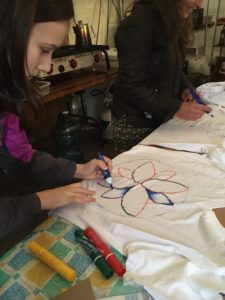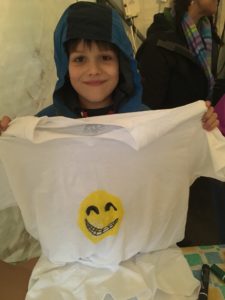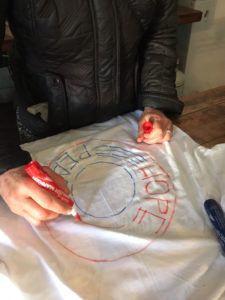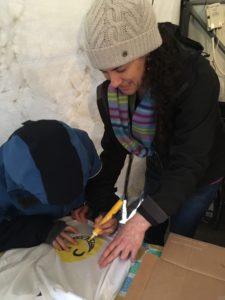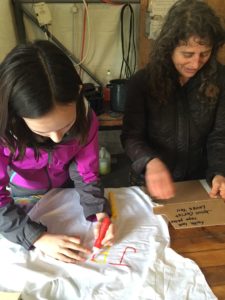 COORDINATING COMMITTEE MINUTES
January 8, 2017 – In attendance: Nina, Cay, Paul.  Not in attendance: Carol, Jeff, Jessica, Gabe, Laurence
Committee Reports: We will invite a rep from each committee, including JLC, to come to our next meeting with a report and a 2017-2018 budget request. If they can't come, they should send something in writing. This will be a time to discuss activities and anticipated spending.
Next Meeting: Feb 5 at Cay Vandervelde. In addition to committee reports we will do a wrap-up review of our Jan 21 Havdalah.
Donations to Syrian refugees: Nina will speak with Rachel Kerbrat about Tikkun Olam committee meeting to discuss final plans for rent help, way to prioritize what the family needs, how to get things together and/or money donated. CC also suggests discussing how to spend our money in the current political climate.
Shir Hayam member handbook: Denise sent this around a few weeks ago. We will have a potluck Shabbat dinner (CC members and families) on January 27. We will follow revisions with a notice to Shir Hayam members and link to it on the website and in the newsletter. (Follow-up: the process began at our Shabbat, CC members are reviewing and making additional suggestions to be discussed at the CC's March meeting.)
Shir Hayam savings: It is not clear how we disperse this money. We need to determine a process—what it looks like and how to implement it.
FROM AARON LEVINE
Dear Friends,
God, being and love are one. In that Ocean of Awareness we call life, there is no room for exclusion. Period. All waves, be they Jewish, Christian or Muslim, be they Democrat or Republican or be they any gender identification. All are none other than water itself in different forms.
Happiness is simply the love of being. All living things share this experience. There is no American being or Russian being or Syrian being. Investigate it for yourself. Does your "being-ness" have any boundaries or edges? Where in time does it exist? What is its form? Being is one just as space is one. Both are complete, nothing can be added to make them any larger and nothing taken away can diminish them. The realization of this truth is freedom. It energizes the activities of kindness, compassion and love free from any agenda, from any limitation. If I am fullness itself, without want, if I have nothing that I need to take from anyone or deal I need to win, my life becomes like the ever-shining sun in whose presence all can enjoy my gifts.
Compassion is universal but is uniquely expressed through individual hearts and minds. Each person comes to his or her own sense of what is just and good. For some, social justice is an expression of compassion. For others, it might take the form of teaching, writing, speaking or protesting and yet for others it might mean meditating or witnessing in order to connect to the source. Whether raising a child or providing for a family, the forms of compassion are as infinite as there are beings. However, no person should ever be made to feel inadequate based upon some judgment of what we think they should be doing or not doing. In oneness, how can there be a judgment if there is no separation between the judge and the judged? This does not imply that we cannot express ourselves or invite others to examine our ideas. However, if in doing so we invite anger, hate, indignation or fear into our hearts, we separate from our higher self. Our divine light is dimmed, we become lost in the dark.
The history of the Jewish people is the history of the oppressed and of the refugee. To welcome the stranger and to lift up the fallen are in the very DNA of that which we hold most precious. "To do unto others what we would want done unto us" is not simply an idea; it is the spiritual oxygen that if denied, would end our existence.   Let us together as Jews, as humans and as simple beings be very clear that we do not turn our backs on life and always remember that we do not live among others but rather the other lives in us.
May we all continue to seek to the source of peace that is ever present, to be kind and respectful to all and to find gratitude and fulfillment in the endless opportunities to live, love and be loved.
Aaron Levine
MEMORIAL SCROLLS TRUST
Gishrei Shalom Jewish Congregation in Southington CT recently held a service of dedication for MST#888 from Caslav:  Golcuv-Jenikov. Rabbi Shelley Kovar Becker was kind enough to share several photographs via a Facebook album which may be found here. The collection includes a shot of a letter sent to the congregation from the White House. The text reads:
September 1, 2016
I send greetings to all those gathered for the rededication of a rescued Holocaust Torah with the Gishrei Shalom Jewish Congregation.
Even in the face of indescribable barbarism, men and women of faith have long endeavored to hold strong to their beliefs. As neighborhoods and synagogues were destroyed during the Holocaust, members of Prague's Jewish community banded together to keep their sacred history alive – rescuing religious artifacts from ruins, including the Torah you rededicate today.
Its origins spanning centuries, this Holocaust Torah is a testament to the fact that our histories can never be erased, and that no act of hatred can match the faith and love that united people in common humanity. By coming together this afternoon, you remind us that it is our collective responsibility to stand up against bigotry and hatred in all its forms, including the kind of act that takes a Torah away from its rightful owners.
you have my best wishes for a meaningful event.
Barack Obama
http://www.memorialscrollstrust.org/community/greetings-president-obama/
Chavurat Shir Hayam is an honored custodian of one of these torahs, MST #511. Let's consider this letter directed to all scroll-holders of the Memorial Scrolls Trust. As one of the MST chairs wrote, "The Torah is unique. Not only is it the one thing that binds all Jews together regardless of their denomination, but as the Old Testament of Christianity and Al Tawrat of Islam is something we all have in common. The new trusteeship we can use our Sifrei Torah for intra and interfaith work, reminding people of what they have in common, rather than what divides them." 
WHITEFISH MONTANA
The chavurah was recently contacted by a local BI resident who wished to share this regarding the potential upcoming rally in Whitefish MT & issues concerning this in the community up to this point.
Eli Sanders of The Stranger gives an excellent summary of how the Whitefish target evolved http://kuow.org/programs/week-review Friday, Jan. 7, 2017 ~35 minutes into the show. 
Update from Rabbi Francine Roston, Glacier Jewish Community/B'nai Shalom:
Best wishes for 2017 from Glacier Jewish Community/B'nai Shalom in the Flathead Valley of Montana.
The last several weeks have been difficult for us, but they have also reminded us of the essential goodness of our Montana neighbors and our fellow Americans.
We have been truly overwhelmed by the outpouring of support we have received from individuals and organizations around the country. We deeply appreciate all who have expressed concern about haters targeting us, disrupting our lives, and threatening to conduct an anti-Semitic white extremist rally in our community. We are especially grateful for our wonderful neighbors in Whitefish and the State of Montana, who have stood by our Jewish community here in the Flathead Valley every step of the way.
Many supporters have asked what they can do to help now. First, let us state what would NOT be helpful: There should be no effort to engage in a counter-protest rally should the extremists decide to come to our community.
We have been in constant contact with law enforcement and other government officials, and also with the Southern Poverty Law Center and the Anti-Defamation League, all of whom have significant expertise in monitoring and dealing with extremist individuals and groups. They are emphatic and unanimous in their belief that any such counter-rally would be counterproductive; a bad idea that would only serve to feed the extremists' craving for attention and legitimacy. We live in a small town and creating a bigger conflict or larger demonstration is only disruptive to our lives.
There are things you CAN do – actions that would mean a lot to us. First, while at this time we do not believe that the hate rally will actually happen, you can support efforts such as the initiative that encourages people to pledge money for every minute the haters march should their rally materialize. The funds will go to the Montana Human Rights Network, which supports diversity throughout Montana. This is a wonderful way to turn lemons into lemonade. Indeed, even if there is no march, this organization is worthy of your support
Second, the increased costs for security measures are significant for the Glacier Jewish Community – specifically, to protect people and property from the remote risk of physical attacks. Therefore, we are working with Secure Community Network, a not-for-profit that is overseen by the leadership of The Jewish Federations of North America, and the Conference of Presidents of Major American Jewish Organizations. They have agreed to accept contributions on our behalf, and pass them through dollar-for-dollar as security grants to the Glacier Jewish Community. On a confidential basis, they have advised on security enhancements, and they will have appropriate knowledge of expenditures. In the event we raise funds in excess of our security needs, we intend for SCN to retain these funds to contribute to their ongoing work. Unfortunately, we are not the only beneficiaries of their security support services.
To contribute gifts to the "Glacier Jewish Community Security Grant" and SCN, you can mail contributions to: Secure Community Network, c/o JFNA, PO Box 157, NY, NY 10268. You may also make contributions through various donor advised charitable trust programs (tax ID 20-1437733). Smaller contributions may be made electronically via their online system.
Last, you can use the Whitefish story as a way to engage individuals, organizations and schools in your own communities in positive discussions on how to stand up to hate. We never expected to be the target of a hate campaign, but this experience has made it clear to us that today no one is immune from cyberterrorism, trolling, doxxing, and other manifestations of hate online. The good news is that there are also now many resources to help people address this, including these from ADL and the SPLC.
Thank you again for your concern, your support, and your willingness to stand up and not be bystanders when anti-Semitism and all forms of prejudice, bigotry and hate surface. Our community is stronger because you have been there for us.
Rabbi Francine Roston, Glacier Jewish Community/B'nai Shalom
Sandy Perry, Chairperson, Glacier Jewish Community/B'nai Shalom
FROM JEWISH FAMILY SERVICE
JFS Stands With Refugees Posted on January 30, 2017
The following statement was emailed to the JFS community from CEO Will Berkovitz on Holocaust Remembrance Day (Friday, Jan. 27, 2017) in response to the executive order signed that day.
President Trump signed an executive order that equates refugees to terrorists and unjustly targets Muslims. We at Jewish Family Service reject this policy and those notions. JFS was founded by a small group of women committed to helping poor refugees coming from Europe and the Mediterranean. This responsibility was at the core of our founding in 1892, and it remains as critical to us today as it was then. Refugees are individuals and families fleeing the horrors of war. They are victims of terror, not terrorists. Refugees are the most vetted group of people allowed into our country, undergoing 18 to 24 months of security screening from the Department of Homeland Security, the NSA and other national intelligence agencies. This executive order comes at a time when there are historic numbers of refugees worldwide, half of whom are children. President Trump said, "We don't want them here."
Our Jewish history and values compel us to reject that position. We too were strangers in a strange land; and today, on Holocaust Remembrance Day, we recall the deadly impact of this nation locking its doors. We are resolved to continue providing services to vulnerable people of all races, religions and ethnic backgrounds.