Tishrei/Cheshvan 5777
Call 206-567-9414 for event details or see our online calendar here.
November

5 JLC Tikkun Olam Project – Tent City
19 Havdalah
28 Super Supper
December

2 Shabbat
tbd Chanukah Party
26 Super Supper
 Tashlich 2016 (photo credit Paul Travis)

THE COORDINATING COMMITTEE WANTS YOU
The 2016-17 board aka "Steering Committe" (presently Cay, Carol, Jessica, Nina, and Paul) would like 3-4 more volunteers to bring that magic special something. We meet 6 times a year in an exotic island — contact any of us directly or via the Contact Button!
It's your Mitzvah time 🙂
JLC TIKKUN OLAM PROJECT – TENT CITY
JLC welcomes everyone to join us as we deliver all kinds of winter things to our tent city friends who sleep in tent sukkahs all year round.  On Saturday November 5 —  we will be delivering all the wonderful socks and underwear, and other warm winter things we've collected to the people of Interbay Tent City 5 in Seattle.
New warm socks and underwear for Tent City residents (mens and womens, sizes S to XL)
or–winter things-blankets, sleeping bags, warm coats and rain jackets.
or–healthy food for Tent City that doesn't require refrigeration : e.g. soups, tuna, peanut butter
or–money that we'll use for a Goodwill or Costco trip to buy things to bring with.  Give checks made out to Chavurat Shir Hayam, or cash to Lisa, Zann or Danielle by next Thursday, Nov 3rd.
We're planning to bring substantial snacks and materials for an art project that we can do with Interbay folks:  strings of "peace flags" that will add color and fun, as well as help us connect.  Help getting these together is always appreciated!
You are all welcomed to come with!  We've had such inspiring and profound experiences at Interbay so far, and we hope you'll join us.  Please reply and let us know if you'll be coming.
Here's the plan:
1:10 pm – ferry from Bainbridge to Seattle – let's meet in the café
1:45  – arrive Seattle and walk up to the corner of 3rd and Madison and catch the bus. The ride to Tent City will take about 35 minutes.  If you want to drive that's good too.
2:30 – arrive at Tent City
2:30 to 4:30 – Visit with the residents. Make peace flags and share snacks with them. Deliver the socks and underwear
4:30 – catch bus back to the ferry
5:30 – take ferry back to Bainbridge
What to bring:
$13.00 per person ($5.00 for bus fare + $8.00 for a ferry pass- children are half price)
A backpack to help carry whatever we've collected to bring.  Please dress warmly!
Thanks to all for helping us create a magical Sukkot and Simchah Torah celebration. A special thank you to the Rosenkotz family for hosting. Our Lulav Lanterns lighting the beautiful Sukkah that we helped build and decorate, the poetry, storytelling and dancing with the Torah around the campfire — such a warm and fun harvest celebration!
And many thanks to all of you who already donated new socks and underwear.  We have a great start already!
Lisa and Zann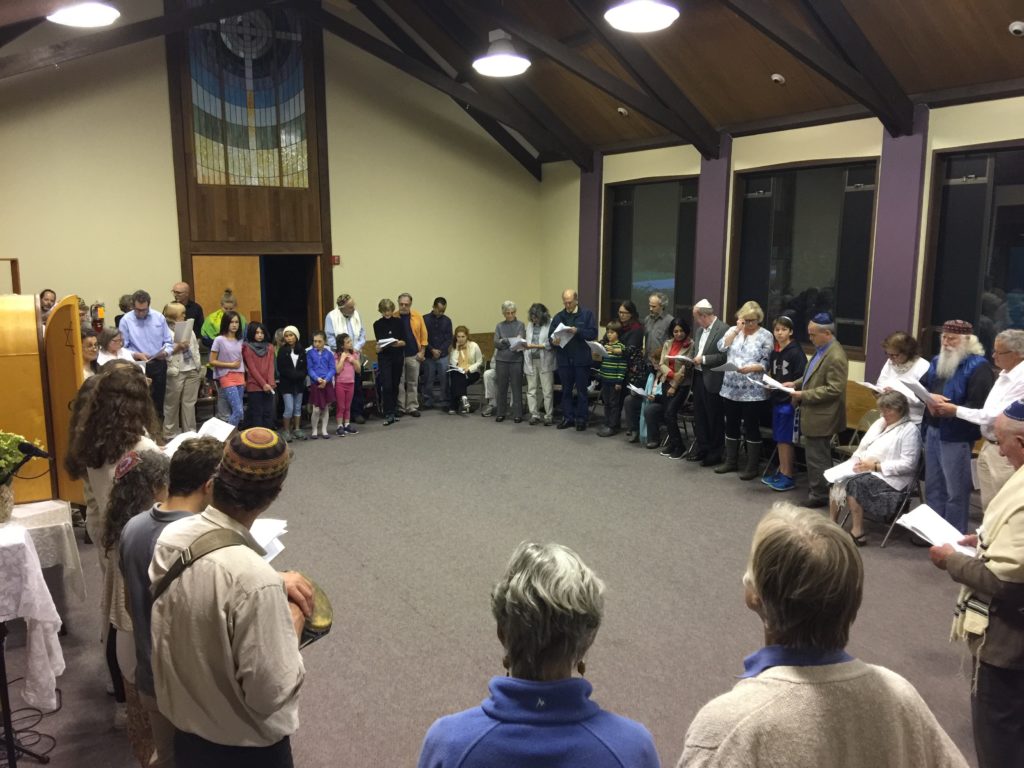 Yom Kippur Ne'ilah (just before break-the-fast) at Rolling Bay church (photo credit Paul Travis)
Calendar This: HAVDALAH
November Havdalah at the home of Carol and Mel Leiman – Saturday November 19th at 6PM on Madrone Lane, Bainbridge Island.
TIKKUN OLAM – PROJECT WISHBONE
Thanksgiving at Helpline House
TO DONATE TO THE FOOD BANK FOR THANKSGIVING:
Holiday Foods-non-perishables: please deliver non-perishable holiday foods (canned/packaged) from MONDAY, NOVEMBER 2 through FRIDAY, NOVEMBER 13. Frozen turkeys can also be accepted during this time. Hours for donations: 9am to 4:30pm on weekdays. We will also be open on Saturday November 14 from 10am to 3pm to receive food donations.
Holiday Foods-perishables: please deliver perishable, refrigerated or frozen food items (i.e., turkeys, turkey roasts/breasts) on FRIDAY, NOVEMBER 20 or SATURDAY, NOVEMBER 21. Hours for donations: 9am to 4:30pm on Friday and 10am to 3pm on Saturday. Please note that our customers prefer small (10 to 12 pound) turkeys. We do not have freezer space for larger birds. Turkey roasts and turkey breasts, as well as small hams, are even more popular than turkeys.
Food drives: if you are planning a food drive, or have more than a couple of bags/boxes of food, please contact us to confirm when we can handle your delivery. Contact: volunteerservices@helplinehouse.org or 206.842.7621. Please plan your food drive so that delivery to us can be made by November 14.
If you, or someone you know, are in need of food, please visit Helpline House or call us at 842-7621 to find out about food bank registration. The only documentation needed is proof of residency on Bainbridge Island; no income information is requested for food assistance.
HAPPENING IN SEATTLE
How to Find Your Jewish Roots
Sunday, November 6, 10-11:30 AM Cost: Free Instructor: Nancy Adelson at Temple B'nai Torah in Bellevue
Meet TBT member, Nancy Adelman, as she shares her expertise in Jewish Genealogy. She will guide participants through helpful resources, organizing information and interview and research techniques. Nancy is the founding member of the Jewish Genealogical Society of Washington State and has won many awards, presented at numerous conferences and taught extensively on this subject. 15727 NE 4th Street • Bellevue, WA 98008 • (425) 603-9677
The Case For My Mother: A Call for Ethel Rosenberg's Exoneration
Sunday, November 13, 10-11:30 AM Cost: Free Speaker: Robert Meeropol at Temple B'nai Torah in Bellevue
Ethel and Julius Rosenberg are the only two United States civilians executed for conspiracy to commit espionage during the Cold War, but was Ethel guilty? Robert Meeropol, the younger son of the Rosenbergs, will show the evidence of her innocence and make the case for her exoneration. He and his brother have launched an online petition campaign and called for President Obama to clear Ethel's name. 15727 NE 4th Street • Bellevue, WA 98008 • (425) 603-9677